לוח מפגשים וכנסים
---
---
FH Awareness Day Toolkit
Familial Hypercholesterolemia (FH) is the most common genetic condition leading to early heart disease. In fact, 1 in 250 people have FH. That's 1.3 million Americans and 30 million people worldwide.
FH Awareness Day was established in 2012 by the FH Foundation to raise awareness of familial hypercholesterolemia worldwide. This annual event is held on the September 24th, during National Cholesterol Education Month. Together, we raise our voices to help everyone #KnowFH.
Social Media Content
Below you will find this year's content for FH Awareness Day! Download and share these posts on your Instagram, Facebook, or Twitter to spread the word.
https://thefhfoundation.org/fh-awareness-day/toolkit
---

EAS Congress 2020:  outstanding science, now in an innovative virtual format - E-Poster Viewing
The European Atherosclerosis Society leadership have been monitoring the response to the current pandemic both in Switzerland and worldwide. Our hope had been, with lifting of restrictions, to have a face to face meeting. Taking into account the recent updateof Swiss regulations for meetings and travel, specifically around the Geneva area, we have concluded that it will not be possible for EAS Congress 2020 to take place as a face to face meeting in Geneva as planned. This decision has been made out of consideration for the safety and well-being of all involved.
The 88th EAS Congress is now transformed into a virtual event. The Congress dates remain the same: October 04-07, 2020, and all the elements of our outstanding scientific programme will be presented. What is different, then, is a unique virtual experience, with innovative formats that allow you to participate, interact and experience the programme online.
As a poster presenter your poster will be included in the congress as a PDF on the virtual platform. Further details on how to prepare your poster will follow in the coming weeks.
We thank you for your understanding and flexibility under challenging and rapidly changing circumstances.
Get set for EAS 2020 virtual Congress, online October 04-07
---
הכנס השנתי נדחה ל-29.4-1.5.2021 | פסטורל כפר בלום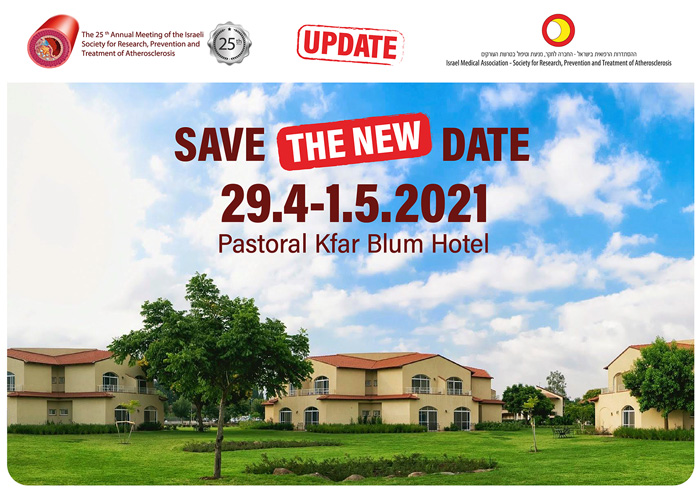 עדכון כנסים מאתר e-Med:
---